Summerfest planning meetings begin January 10th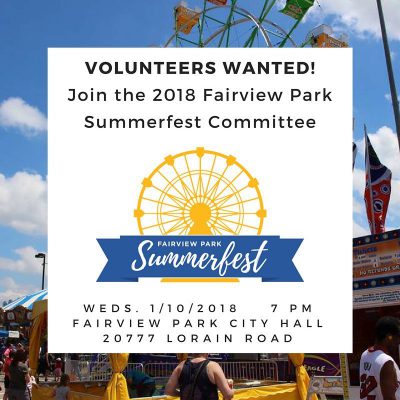 What should be new and improved at #FPSummerfest 2018? Join the Summerfest Committee and make it a reality!
Beginning in January 2018, the Summerfest Committee will hold monthly meetings for the purpose of planning and operating Summerfest 2018. We welcome all volunteers and community groups interested in collaborative opportunities to join us at our meetings. This is a great, flexible volunteer opportunity in our community!
We are currently looking for volunteers to assist with registering vendor booths and seeking sponsors.
2018 Meeting Schedule
Wednesday, January 10th
Wednesday, February 14th
Wednesday, March 14th
Wednesday, April 11th
Wednesday, May 9th
Wednesday, June 13th
Wednesday, June 27th @ Bohlken Park
Unless otherwise noted, all planning meetings of the 2018 Summerfest Committee will occur at 7:00 pm in the Dunson Community Room at Fairview Park City Hall, 20777 Lorain Road.