2017 marked a special time for Fairview Park Summerfest.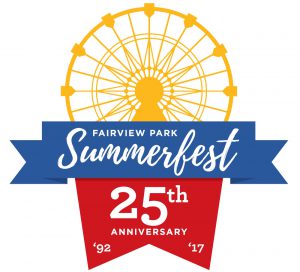 Founded in 1992, Summerfest celebrated its 25th anniversary in 2017 with a festival featuring an assortment of fan favorite attractions like fireworks, a car show, and carnival rides, as well as new activities like Artisan Alley, canvas art paint workshops, and a mechanical bull. The Summerfest Committee would like to thank our 43 sponsors (see below), our community partners, and all of our neighbors for making our milestone 25th year a raving success.
Photos of the Summerfest 2017 can be viewed on our Facebook page and Instagram profile.
The highlight of the weekend was the fireworks display on Saturday evening, which was the biggest and best display ever presented at Fairview Park Summerfest in its 25 year history. The finale of the fireworks display can be viewed in the video immediately below:
To commemorate the 25th anniversary, a special community art project was completed throughout the festival weekend. All visitors had an opportunity to contribute their creative flair to the mural, which was then assembled by Fairview Park resident and Summerfest friend, Melissa Conrad. Here's the finished product:
Media coverage of the 25th anniversary:
"Fairview Park Summerfest is bigger, better after 25 years." By Carol Kovach, special to cleveland.com
"Bigger fireworks display part of 2017 Summerfest." By Kevin Kelley, West Life