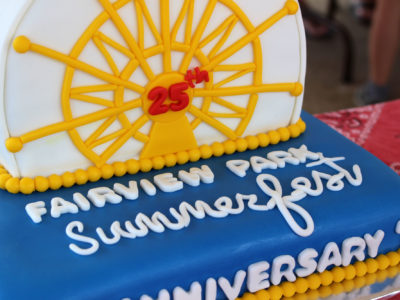 Summerfest is Fairview Park, Ohio's annual weekend festival for the community, by the community, which provides a gathering place to enjoy good food, live music, a parade, fireworks, carnival rides, and more. This fun-filled, family-oriented event is designed to encourage collaboration and companionship among the residents, businesses, and civic organizations that comprise Fairview Park.
The first Fairview Park Family Summerfest was organized in 1992 by a group of dedicated residents, building upon Fairview Park's historic Candy Parade. The festival was intended to provide the churches, schools, clubs, and civic organizations of Fairview Park an opportunity to introduce themselves to the community and raise funds for their individual projects. The first Summerfest was held at Bohlken Park where it remains over 25 years later.
Today, Summerfest continues to be planned by a team of community volunteers, under the umbrella of the Fairview Park Municipal Foundation, a 501(c)(3) nonprofit corporation. More information about the Summerfest Committee is available here.
Funds for Summerfest originate from sponsorships and donations, and from the profit generated by carnival ride ticket sales and vendor booth rentals. Festival expenses include entertainment; fireworks; table, chair, and tent rentals; safety and service personnel; and restroom supplies.